Helmand: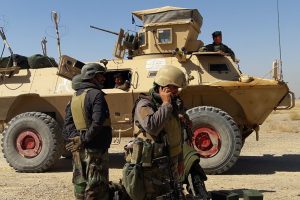 Fighting between the Taliban and Afghan government forces resumed in the restive southern province of Helmand, ending a three-day ceasefire agreed by the warring sides to mark the Id-ul-Fitr holiday.
Helmand is also known as Hillmand or Helman and, in ancient times, as Hermand and Hethumand.
It is one of the 34 provinces of Afghanistan, in the south of the country.
It is the largest province by area. The province contains 13 districts.
Lashkargah serves as the provincial capital. The Helmand River flows through the mainly desert region of the province, providing water used for irrigation. The Kajaki Dam, which is one of Afghanistan's major reservoirs, is located in the Kajaki district.
Helmand is believed to be one of the world's largest opium-producing regions, responsible for around 42% of the world's total production.
Since the 2001 War in Afghanistan, Helmand Province has been a hotbed of insurgent activities. It has been considered to be Afghanistan's "most dangerous" province.