National Security Advisor Meet: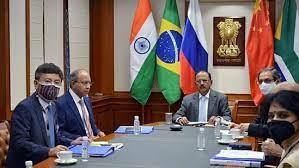 The National Security Advisor (NSA) of India, for the first time, hosted a special meeting with his counterparts from Central Asian countries – Kazakhstan, Kyrgyzstan, Tajikistan, Turkmenistan and Uzbekistan.
Earlier in January 2022, the Prime Minister of India hosted the first India-Central Asia Summit in virtual format.
Highlights about the Meetings of NSAs:
This was the first time that NSAs of Kazakhstan, Kyrgyzstan, Tajikistan and Uzbekistan were in Delhi for a high-level security meeting.
The meeting coincides with the 30th anniversary of the establishment of diplomatic ties between India and the Central Asian countries.
The focus was mainly on the security situation in Afghanistan and the threat of terrorism originating from the country under the Taliban.
The NSAs supported India's proposal to include Chabahar port within the framework of the INSTC (International North-South Transport Corridor) connecting Iran to Russia via Central Asia.
Deliberations over the need for collective and coordinated action against the "misuse of new and emerging technologies, arms and drugs trafficking, abuse of cyber space to spread disinformation and unmanned aerial systems".
During the summit, the leaders agreed to institutionalise the Summit mechanism by deciding to hold it biannually.
An India-Central Asia Secretariat in New Delhi would be set up to support the new mechanism.
National Security Advisor in India:
The National Security Advisor (NSA) is the primary advisor to the Prime Minister of India.
He also presides over the National Security Council (NSC).
The current NSA is Ajit Doval.