Kanheri Caves: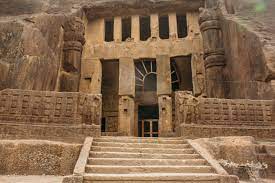 Union Minister of Tourism, Culture and DoNER inaugurates amenities at ancient Kanheri Caves on the occasion of Buddha Purnima.
The Kanheri Caves are a group of caves and rock-cut monuments cut into a massive basalt outcrop in the forests of the Sanjay Gandhi National Park, on the former island of Salsette in the western outskirts of Mumbai.
The Kanheri caves comprise more than 110 different rock-cut monolithic excavations and is one of the largest single excavations in the country.
These excavations were primarily undertaken during the Hinayana phase of Buddhism but also has several examples of the Mahayana stylistic architecture as well as few printings of the Vajrayana order.
The name Kanheri is derived from 'Kanhagiri' in Prakrit and occurs in the Nasik inscription of the Satavahana ruler Vasisthiputra Pulumavi.
They contain Buddhist sculptures and relief carvings, paintings and inscriptions, dating from the 1st century CE to the 10th century CE.
Kanheri was mentioned in the travelogues of foreign travellers.
The earliest reference of Kanheri is ascribed to Fa-Hein who visited India during 399-411 CE.