Kartavya Path: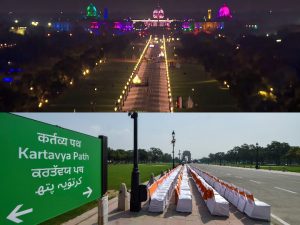 The Prime Minister inaugurated the 'Kartavya Path' and unveiled the statue of Netaji Subhas Chandra Bose at India Gate.
Kartavya Path symbolizes a shift from erstwhile Rajpath being an icon of power to Kartavya Path being an example of public ownership and empowerment.
The statue of Netaji Subhas Chandra Bose made of granite, is a fitting tribute to the immense contribution of Netaji to our freedom struggle, and would be a symbol of the country's indebtedness to him.
Crafted by Shri Arun Yogiraj, who was the main sculptor, the 28 feet tall statue has been carved from a monolithic granite stone and weighs 65 MT.
These steps are in line with Prime Minister's second 'Panch Pran' pledged during 75th Independence Day 2022, for New India in Amrit Kaal: 'remove any trace of colonial mindset'
The entire stretch and the area from the Netaji statue under the Grand Canopy to the Rashtrapati Bhavan will be known as Kartavya Path.
Kartavya Path includes the erstwhile "Rajpath and Central Vista lawns".
Kartavya Path will exhibit landscapes, lawns with walkways, added green spaces, refurbished canals, amenity blocks, improved signages and vending kiosks.
It also includes a number of sustainability features like solid waste management, storm-water management, recycling of used water, rainwater harvesting, water conservation and energy efficient lighting systems, among others.
The revamped and expanded lawns on both sides of the erstwhile Rajpath are part of the larger Central Vista project, where a new triangular Parliament building, along with the Central Secretariat and several other government offices, are being rebuilt.