Kerala's Protest Against ESZ Notification: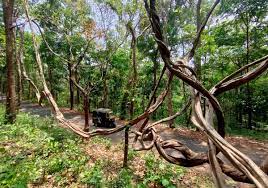 Farmers in Kerala are protesting against Supreme Court's order to establish Eco-Sensitive Zones (ESZs).
The SC has directed to have a mandatory ESZ of minimum one kilometre measured from the demarcated boundary of every protected forest, including the national parks and wildlife sanctuaries.
The Kerala State Assembly demands the Centre to notify the zones by considering the State government's proposals that marked the ESZ as zero around 10 protected areas of the State.
The notification has stirred an unpleasant situation in Kerala where any regulatory mechanism on land and land use patterns would have political ramifications.
Kerala is concerned about the possible impact on its unique landscape.
Nearly 30% of Kerala is forested land and the Western Ghats occupies 48% of the State.
Due to the high density of human population near the notified protected areas, farmer's groups and political parties have been demanding that all human settlements be exempt from the ESZ ruling.
The State Government apprehends that the SC's notification may worsen the ground situation as it would adversely impact the interests of the State besides upsetting the lives of millions living near the protected areas.
Eco-Sensitive Zones:
The National Wildlife Action Plan (2002-2016) of the Ministry of Environment, Forest and Climate Change (MoEFCC) stipulated that state governments should declare land falling within 10 km of the boundaries of national parks and wildlife sanctuaries as eco fragile zones or Eco Sensitive Zones (ESZs) under the Environmental (Protection) Act, 1986.
While the 10-km rule is implemented as a general principle, the extent of its application can vary.
Areas beyond 10-km can also be notified by the Union government as ESZs, if they hold larger ecologically important "sensitive corridors."