Kudremukh Range: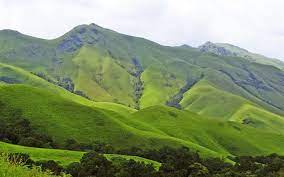 Kudremukh Iron Ore Company Limited (KIOCL) recentlly sought post-facto approval for submerging 700 acres of forest in Kudremukh Range at the heart of Western Ghats about 20 years ago.
Kudremukh Range is located in the Western Ghats in the Chikmagalur district of Karnataka.
These broad hills overlook the Arabian Sea and are connected by deep valleys and sharp cliffs.
It is also known as the Horse Face Range (the literal meaning of Kudremukh in Kannada is horse-faced).
It got its name from its main peak, Kudremukh Peak (1892 metres), which has a marked similarity to the face of a horse.
Kudremukh National Park, the second largest wildlife protected area in the Western Ghats, is located in these ranges.
It is believed that Kudremukh served as a landmark for sailors on the western coast for over 2000 years.
Kudremukh National Park
It is spread across 600.57 sq km. in the Chikkamagaluru and Dakshina Kannada districts of Karnataka.
Dense forest cover primarily consists of semi-evergreen and evergreen trees.
Rare flora on the edge of extinction, such as the Nilambur Cobra Lily and the South Indian Jewel Orchid, can be found here.
In addition, there are many trees, including eucalyptus, acacia, silk oaks, casuarinas, and others.
It houses a variety of wildlife such as the leopard, Malabar giant squirrel, sloth bear, gaur, sambar, jackal, mongoose, tiger, wild dog, common langur etc.
It is home to a variety of birds, such as the Malabar trogon, Malabar whistling thrush, and the imperial pigeon.