Sea Cucumber: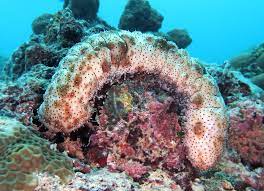 Sea cucumber in India is treated as an endangered species listed under schedule I of Wildlife Protection Act of 1972.
They are marine invertebrates that live on the seafloor found generally in tropical regions.
They're named for their unusual oblong shape that resembles a fat cucumber.
They are an integral part of the coral ecosystem as one of the main by-products of the sea cucumbers digestion of sand is calcium carbonate and this is essential for the survival of the coral reefs.
They act like garbage collectors of the ocean world, and they recycle nutrients, thus playing an important role in keeping coral reefs in good condition.
Sea cucumbers are in high demand in China and Southeast Asia.
It is primarily smuggled from Tamil Nadu to Sri Lanka in fishing vessels from Ramanathapuram and Tuticorin districts.
IUCN Red List: Brown Sea Cucumber (Endangered), Blackspotted Sea Cucumber (Least Concern), Blue Sea Cucumber (Data Deficient), etc.