Ayush Visa : New Category Of Ayush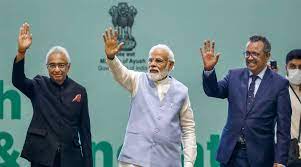 The Ministry of Home Affairs recently notified the creation of a new category of Ayush visa for foreign nationals for treatment under Ayush systems/Indian systems of medicine.
Ayush Visa is specifically designed for foreign nationals looking to receive medical treatment in India through traditional Indian systems of medicine.
This visa aims to cater to those interested in Ayurveda, Yoga, and other traditional forms of therapeutic care and wellness.
A new chapter, e., Chapter 11A, Ayush Visa, has been incorporated after Chapter 11 – Medical Visa of the Visa Manual, which deals with treatment under the Indian systems of medicine, and accordingly, necessary amendments have been made in various chapters of the Visa Manual, 2019.
The introduction of the Ayush Visa category is part of the country's roadmap for the Heal in India initiative.
It seeks to provide "integrated and holistic treatment" to the world in India and enhance patient mobility for access to world-class, affordable, and quality healthcare services".
AYUSH, which stands for Ayurveda, Yoga, Unani, Naturopathy, Siddha, and Homoeopathy, is an acronym devised in 2003 to change the name of the Department of Indian Systems of Medicine and Homoeopathy (ISM & H).