Net Zero Producers' Forum: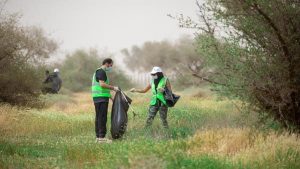 Qatar, the US, Saudi Arabia, Canada, and Norway have come together to form a cooperative forum that will develop pragmatic net zero-emission strategies.
These countries are collectively responsible for 40% of global oil and gas production.
The Net Zero Producers' Forum will consider strategies and technologies which include "methane abatement, advancing the circular carbon economy approach, development and deployment of clean energy and carbon capture and storage technologies, diversification from reliance on hydrocarbon revenues, and other measures in line with each country's national circumstances."
Net-zero:
Net-zero, which is also referred to as carbon-neutrality, does not mean that a country would bring down its emissions to zero. Rather, net-zero is a state in which a country's emissions are compensated by absorption and removal of greenhouse gases from the atmosphere.
Absorption of the emissions can be increased by creating more carbon sinks such as forests, while the removal of gases from the atmosphere requires futuristic technologies such as carbon capture and storage.