New CEO Of NITI Aayog : BVR Subrahmanyam: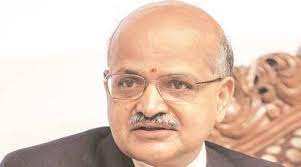 PM Modi appointed BVR Subrahmanyam as the new CEO of NITI Ayog.
BVR Subrahmanyam served as the Chief Secretary of Jammu and Kashmir.
He was a 1987 IAS officer from the Chhattisgarh cadre.
He served as the private secretary of Mr Manmohan Singh during his reign from 2004 to 2008.
The NITI Aayog :
It serves as the apex public policy think tank of the Government of India, and the nodal agency tasked with catalyzing economic development, and fostering cooperative federalism through the involvement of State Governments of India in the economic policy-making process using a bottom-up approach
Formed :1 January 2015
Objectives: Foster involvement and participation in the economic policy-making process by the State Governments of India
The seven pillars of the NITI Aayog include Pro-activity, Pro-people, Participation, Empowering, Inclusion of all, Equality, and Transparency.