New Comic Book : Developed By NCERT And UNESCO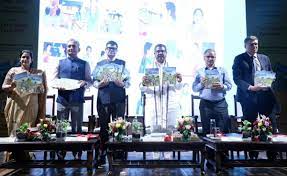 The Ministry of Education, unveiled a new comic book, "Let's Move Forward", developed jointly by NCERT and UNESCO in New Delhi.
This partnership marks a step towards advancing the objectives of the School Health and Wellness Programme (SHWP).
It was launched in 2018 as part of the Ayushman Bharat campaign and jointly administered by the MoE and the MoHFW.
The aim is to provide health education, prevent diseases, and improve access to health services.
The comic covers information related to the 11 thematic components (emotional well-being, interpersonal relationships, gender equality, nutrition and health, prevention of substance abuse, promoting healthy lifestyles, reproductive health, internet safety, and more) of the SHWP.
It is accessible in multiple languages; Hindi, English, Assamese, Bengali, Gujarati, Kannada, Malayalam, Marathi, Odia, Tamil, and Telugu.