PARAM ANANTA India's Latest Super Computer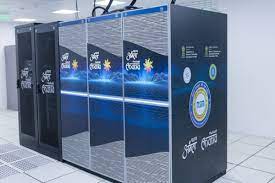 PARAM ANANTA is India's latest super computer.
It has 838 TeraFlops supercomputing capability.
It was commissioned at IIT Gandhinagar under National Supercomputing Mission (NSM)
It has been developed jointly by the Centre for Development of Advanced Computing (C-DAC) and the Indian Institute of Technology, Gandhinagar.
Param Ananta will rank behind C-DAC's Param Siddhi-AI, which as of November 2021 was the 102nd most powerful supercomputer in the world.
Under NSM, till date 15 supercomputers have been installed across the nation with aggregate compute capacity of 24 petaflops.
All these supercomputers have been manufactured in India and operating on indigenously developed software stack.