Paris Diamond League 2023: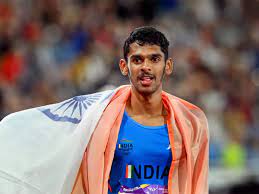 Indian long jumper Murali Sreeshankar secured third place in Paris Diamond League
Murali Sreeshankar registered an impressive 8.09m attempt to finish third in the men's long jump event at the Paris Diamond League 2023 athletics in France on Saturday.
The Diamond League started in 2010; organized by the World Athletics body is a prestigious annual international athletics series consisting of various track and field events held across different cities around the world.
It features the world's top athletes competing in disciplines such as sprints, jumps, throws, and middle-distance races. Neeraj Chopra was the first Indian to win a Diamond League meet.