Passport To Earning (P2E) Initiative: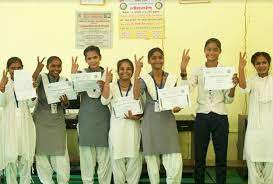 UNICEF's global learning-to-earning solution, Passport to Earning (P2E), has skilled and certified more than one million young people in India in areas of financial literacy and digital productivity.
Aligned with the National Education Policy (NEP) 2020, the P2E program offers free access to certificate courses in digital productivity, financial literacy, employability skills, and other in-demand, job-ready skills.
Notably, 62% of the beneficiaries of P2E courses in India are adolescent girls and young women.
With the goal of providing long-term sustainable skills to 5 million youth in India aged 14-29 by 2024 and connecting them to employment and entrepreneurship opportunities, P2E is a vital contribution to the nation's educational and economic landscape.