Portable Oxygen Cans: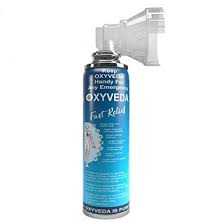 After oxygen cylinders, it's everyday-use portable oxygen cans that are now witnessing brisk sales across the country, with escalating air pollution levels and increased travel and outdoor activities. It is also being used by those recovering from COVID-19.
Sales of these portable oxygen cans, according to industry experts, have doubled post-Diwali, and going by the current trend they are expected to triple in the coming weeks.
Delhi-NCR alone claims to bring in 65% of the sales, while Mumbai, Bengaluru and Pune also are witnessing a steady climb in demand for this product.
This when medical doctors are not ready to give an all-clear for the product, stating that it can actually delay medical intervention and lead to a false sense of well-being.
According to doctors, these cans are not useful and they should not be recommended
Technically, a patient in need of oxygen will require at least 1 litre per minute. While these portable oxygen spray cans can have up to 12 litres of oxygen, they will last for about 10 minutes or even less. They shouldn't be seen as a medical intervention.
These oxygen spray cans will hardly help in times of acute respiratory failure. One requires a continuous, high flow of oxygen supply with a proper setting.
These spray cans may only be used in areas with severe air pollution, for certain sports activities, high-altitude climbing and expeditions, mountaineering, sky expeditions etc.
As oxygen supports combustion, storing these at homes is also hazardous.