Remote EVM (R-EVM) : Issues Related To Domestic Migrant Voting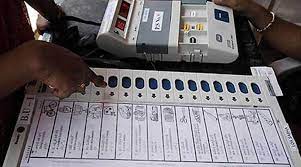 The Election Commission of India (ECI) proposed a Remote EVM (R-EVM) to address issues related to domestic migrant voting. The goal was to improve the 67.4% voter turnout in the 2019 general election.
A survey by Lokniti-CSDS was conducted in September 2023, involving 1,017 migrants living in Delhi's slums, with 63% men and 37% women, aiming to understand whether the proposed R-EVM system would gain a viable level of trust among its intended users, setting aside legal and logistical concerns raised by political parties.
Remote EVM (R-EVM) stands for "Remote Electronic Voting Machine." It is a proposed system by the Election Commission of India (ECI) aimed at facilitating voting for domestic migrants who are unable to vote in their home constituencies due to their current location away from their registered constituencies.
The R-EVM is designed to address the issue of domestic migrant voting, allowing registered voters who have moved away from their home constituencies to cast their votes remotely.
Voters interested in using the remote voting facility must register (online or offline) within a pre-notified timeframe with the concerned Returning Officer (RO) of their home constituency.
A multi-constituency remote polling station will be set up in the area of the voter's current residence, allowing for remote voting from that location.
The RVM can handle multiple constituencies (up to 72) from a single remote polling booth, making it efficient for voters from different constituencies to cast their votes at the same location.
When the voter scans their constituency card in the presence of the Presiding Officer at the remote polling station, the respective constituency and candidate list will appear on the RVM display.
The RVMs have the same security system and voting experience as the existing EVMs and use electronic ballot display to present candidates and their symbols instead of a fixed paper ballot sheet.
The system will count and store the votes for each candidate in a constituency.