Roadmap For Ethanol Blending In India By 2025: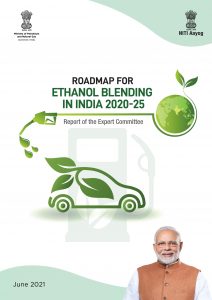 The central government has released an expert committee report on the Roadmap for Ethanol Blending in India by 2025.
The roadmap proposes a gradual rollout of ethanol-blended fuel to achieve E10 fuel supply by April 2022 and a phased rollout of E20 from April 2023 to April 2025.
The Ministry of Petroleum & Natural Gas (MoP&NG) had instituted an Expert Group to study the issues such as pricing of ethanol, matching the pace of the automobile industry to manufacture vehicles with new engines with the supply of ethanol, pricing of such vehicles, the fuel efficiency of different engines, etc.
Ethanol Blending:
It is one of the principal biofuels, which is naturally produced by the fermentation of sugars by yeasts or via petrochemical processes such as ethylene hydration.
The Government of India has advanced the target for 20% ethanol blending in petrol (also called E20) to 2025 from 2030.
Currently, 8.5% of ethanol is blended with petrol in India.