Pench Tiger Reserve : Introduced Cycle Safaris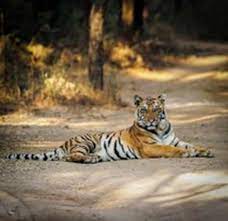 The Pench Tiger Reserve recently introduced cycle safaris, allowing visitors to experience the beauty of nature on wheels.
Pench Tiger Reserve located in the southern reaches of the Satpura hills in the Seoni and Chhindwara districts in Madhya Pradesh and continues in Nagpur district in Maharashtra as a separate Sanctuary.
It is named after the Pench River, which flows from north to south through the Reserve.
It comprises of the Indira Priyadarshini Pench National Park, the Pench Mowgli Sanctuary and a buffer.
The area of the Pench Tiger Reserve and the surrounding area is the real story area of Rudyard Kipling's famous "The Jungle Book".
It is undulating, with most of the area covered by small hills and steep slopes on the sides.
The undulating topography supports a mosaic of vegetation ranging from a moist, sheltered valley to an open, dry-deciduous forest.
The reserve boasts a diverse range of flora, including teak, saag, mahua, and various grasses and shrubs.
The area is especially famous for large herds of Chital, Sambar, Nilgai, Gaur (Indian Bison) and wild boar.
The key predator is the tiger, followed by leopard, wild dogs and wolf.
There are over 325 species of resident and migratory birds, including the Malabar Pied Hornbill, Indian Pitta, Osprey, Grey Headed Fishing Eagle, White Eyed Buzzard, etc.