Sant Guru Ravidas Jayanti :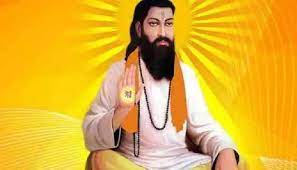 The President of India greeted fellow citizens on the eve of the birthday of Sant Guru Ravidas.
Guru Ravidas Jayanthi is commemorated on Magh Purnima, the day of the full moon in the month of Magh, according to the Hindu Lunar calendar.
Guru Ravidas was a 14th-century famous Bhakti Movement saint.
He abandoned saguna (with attributes, image) forms of supreme beings, and focussed on the nirguna (without attributes, abstract) form of supreme beings.
Ravidas was a disciple of Sant Kabir and the founder of the Ravidassia religion.
The Sikh scripture, Guru Granth Sahib, contains forty-one of his devotional songs and poems.
The famous saint poetess, Mirabai was a disciple of Guru Ravidas.