Savitribai Phule Birth Anniversary: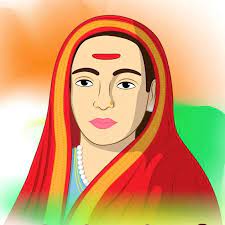 The Prime Minister has paid homage to Savitribai Phule on her birth anniversary.
Savitribai Phule:
A pioneer who challenged oppressive social norms in her quest for women's education, equality and justice, Savitribai Phule is formally recognised as India's first woman teacher.
A Dalit woman from the Mali community, Savitribai was born on January 3, 1831, at Naigaon in Satara District.
In 1840, at the tender age of 9, she was married to Jyotirao (also known as Mahatma Jyotiba Phule one of the leading social reformers and anti-caste activists of India) is said to have educated her at home and later on admitted her to a teacher's training institution in Pune.
The Establishment Of India's First Girls' School
She stablished a girls' school in Bhidewada, Pune, in 1948. This was the first girls' school in India
In 1852, she established a women's rights advocacy organisation, Mahila Seva Mandal.
In 1860, the Phule's organised a barber's strike against shaving the hair of widowed women.
Along with Jyotirao, Savitribai started the Balhatya Pratibandhak Griha ('Home for the Prevention of Infanticide') for pregnant widows facing discrimination.
Savitribai Phule also advocated inter-caste marriages, widow remarriage, and eradication of child marriage, sati and dowry systems, among other social issues.
In 1873, the Phules set up the Satyashodhak Samaj ('Truth-seekers' society'), a platform open to all, irrespective of their caste, religion or class hierarchies, with the sole aim of bringing social equity.
Savitribai Phule published her first collection of poems, called Kavya Phule ('Poetry's Blossoms'), at the age of 23 in 1854.
She published Bavan Kashi Subodh Ratnakar ('The Ocean of Pure Gems'), in 1892.