Philippine: To Deploy Military Ships To The South China Sea: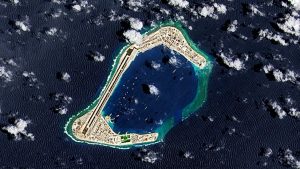 Philippines is planning to deploy military ships to the South China Sea to assert the country's claim over oil deposits in a contested part of the waterway.
Philippine President Rodrigo Duterte has been facing growing domestic criticism for his reluctance to confront China over its activities in Philippine-claimed waters.
South China Sea:
The South China Sea is an arm of the western Pacific Ocean in Southeast Asia.
It is south of China, east & south of Vietnam, west of the Philippines, and north of the island of Borneo.
It is connected by Taiwan Strait with the East China Sea and by Luzon Strait with the Philippine Sea.
Bordering states & territories: the People's Republic of China, the Republic of China (Taiwan), the Philippines, Malaysia, Brunei, Indonesia, Singapore, and Vietnam.
This sea holds tremendous strategic importance for its location as it is the connecting link between the Indian Ocean and the Pacific Ocean (Strait of Malacca).
According to the United Nations Conference on Trade And Development (UNCTAD) one-third of the global shipping passes through it, carrying trillions of trade which makes it a significant geopolitical water body.