Temporary Protection Directive (TPD):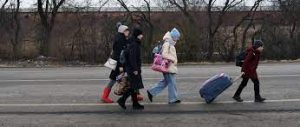 Over 1.5 million people fled Ukraine in the first 10 days of fighting, according to the United Nations High Commissioner for Refugees, which has described the displacement as the "fastest growing refugee crisis since the Second World War".
Responding to the crisis, EU Member States on March 3 made the unprecedented decision to activate the European Union's Council Directive 2001/55/EC of 20 July 2001, known as the Temporary Protection Directive (TPD).
The war in Ukraine is the first time that the EU has invoked the TPD. It is being seen as another sign of European unity against Russia.
The European Commission describes "temporary protection" under the TPD as an "exceptional measure to provide immediate and temporary protection to displaced persons from non-EU countries and those unable to return to their country of origin".
The directive applies when "there is a risk that the standard asylum system is struggling to cope with demand stemming from a mass influx risking a negative impact on the processing of claims".