The City Innovation Exchange (CiX) Platform: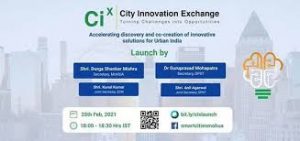 The City Innovation Exchange (CiX) platform was launched by Secretary, Ministry of Housing and Urban Affairs.
The City Innovation Exchange (CiX) will connect cities to innovators across the national ecosystem to design innovative solutions for their pressing challenges.
Designed on the philosophy of 'everyone is an innovator, the platform will bring together Citizen Organisations-Academia- Businesses- Government to co-create for the future of Urban India in a transparent and sustainable manner.
The platform will ease the discovery, design& validation of solutions through a robust, transparent, and user-centric process that will reduce barriers for innovators and cities to discover fitting solutions.
The Platform has more than 400 start-ups, 100 smart cities, more than 150 challenges statements, and over 215 solutions at the time of launch.