Tunisia: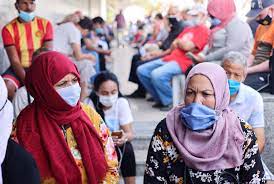 After ten years of democracy and multiple leaders struggling to keep up with it, Tunisia faces its biggest turmoil as President Kais Saied suspended Prime Minister Hichem Mechichi and Parliament over a week ago.
The President stated that the move was taken amidst the economic trouble the country has been facing for years and the government's mishandling of the coronavirus pandemic.
Tunisia, which was supposed to be a hope of democracy in the Arab world, has seen leader after leader come with little to no relief to the citizens of the country.
Tunisia is the northernmost country in Africa.
It is a part of the Maghreb region of North Africa, and is bordered by Algeria, Libya and the Mediterranean Sea.
It contains the eastern end of the Atlas Mountains and the northern reaches of the Sahara desert.
Tunisia is home to Africa's northernmost point, Cape Angela.
Its capital and largest city is Tunis.
Tunisia's democratic history/Arab Spring

In January 2011, Tunisia erupted into protests against the authoritarian government of Zine al-Abedine Ben Ali after a fruit seller, who was harassed by the police, killed himself.
The demonstrations were so widespread that Tunisian authorities were overwhelmed. This led to Ali fleeing to Saudi Arabia.
The unrest spread across the middle east — protests in Egypt, Bahrain, Yemen, Iran and Algeria; civil wars in Libya and Syria and all middle eastern countries facing protests. This unrest was termed as "Arab Spring".
Tunisia was a country where democracy came out as a solution to the protests. In October 2011, Tunisia held its first democratic elections.