Veer Bal Diwas : 26th December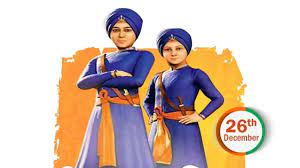 Prime Minister of India had recently announced that 26th December will be observed as 'Veer Bal Diwas', to mark the martyrdom of Sri Guru Gobind Singh's sons.
On December 26, 1707, Sahibzada Zorawar Singh and Sahibzada Fateh Singh attained martyrdom when they were executed on the orders of Aurangzeb.
Guru Gobind Singh was the 10th Sikh guru.
He became the Sikh guru at the age of nine, following the demise of his father, Guru Tegh Bahadur, the ninth Sikh Guru.
Also known for his significant contributions to the Sikh religion, including the introduction of the turban to cover hair.
He is renowned for founding the principles of Khalsa or the Five 'K's i.e kesh (uncut hair), kanga (wooden comb), kara (iron or steel bracelet), kirpan (dagger) and kachera (short breeches).
He fought against the Mughals later in the battle of Muktsar in 1705.
Guru Gobind Singh was killed by a Mughal assassin in 1708, a year after the death of Aurangzeb.