Dandi March To Mark 75 Years Of Independence: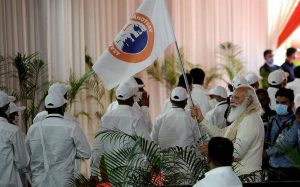 The Prime Minister has flagged off a commemorative 'Dandi March' (on 12th March) to launch the celebrations of the 75th year of Independence – 'Azadi Ka Amrit Mahotsav'.
About the 2021 Dandi March:
The padayatra is being undertaken by 81 marchers from Sabarmati Ashram in Ahmedabad to Dandi in Navsari, a journey of 386 km. The march will end after 25 days, on 5th April 2020.
Descendants of those who walked the Salt March (in 1930) will be honored.
Marchers will traverse the route in memory of the 78 who accompanied Mahatma Gandhi in 1930 from Ahmedabad to Dandi and two others who had joined mid-route.
Big events will be organized at six places associated with Gandhi. These include MK Gandhi's birthplace Porbandar, along with Rajkot, Vadodara, Bardoli (Surat), Mandvi (Kutch), and Dandi (Navsari).
Cultural programs are planned at 21 spots on the route at the nightly stops for the walkers.
About the 1930 Dandi March:
The Dandi March, also known as the Salt March and the Dandi Satyagraha was an act of nonviolent civil disobedience led by Mohandas Karamchand Gandhi.
The march lasted from 12th March 1930 to 6th April 1930 as a direct action campaign of tax resistance and nonviolent protest against the British salt monopoly.
On 12th March, Gandhiji set out from Sabarmati with 78 followers on a 241-mile march to the coastal town of Dandi on the Arabian Sea.
There, Gandhi and his supporters were to defy British policy by making salt from seawater.
At Dandi, thousands more followed his lead, and in the coastal cities of Bombay and Karachi, Indian nationalists led crowds of citizens in making salt.
Civil disobedience broke out all across India, soon involving millions of Indians, and British authorities arrested more than 60,000 people.
Gandhiji himself was arrested on 5th May, but the satyagraha continued without him.
On 21st May, the poet Sarojini Naidu led 2,500 marchers on the Dharasana Salt Works, some 150 miles north of Bombay.
The incident, recorded by American journalist Webb Miller, prompted an international outcry against British policy in India.
In January 1931, Gandhiji was released from prison.
He later met with Lord Irwin, the viceroy of India, and agreed to call off the satyagraha in exchange for an equal negotiating role at a London conference on India's future.
In August 1931, Gandhiji traveled to the conference as the sole representative of the nationalist Indian National Congress.
The meeting was a disappointment, but British leaders had acknowledged him as a force they could not suppress or ignore.