Rashtriya Kamdhenu Aayog (RKA):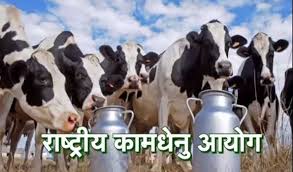 Rashtriya Kamdhenu Aayog (RKA) had recently canceled its "indigenous cow science" examination after widespread criticism about its promotion of fake claims and pseudoscience.
Now, the Animal Husbandry Department has said that RKA had "no mandate" to conduct such an examination.
The RKA had announced a national "Kamdhenu Gau Vigyan Prachar Prasar Exam" to be held on February 25.
Reference materials for the exam made a number of unscientific claims, including that the dung of indigenous cows protected against radioactivity, their milk had traces of gold, and that cow slaughter caused earthquakes.
The RKA had the backing of the University Grants Commission (UGC), which publicized the examination, causing widespread outrage.
About the Rashtriya Kamdhenu Aayog:
Constituted in 2019, the Aayog is a high-powered permanent apex advisory body with the mandate to help the Central Government to develop appropriate programs for conservation, sustainable development, and genetic up-gradation of indigenous breeds of cows.
It comes under the Ministry of Fisheries, Animal Husbandry, and Dairying.
Rashtriya Kamdhenu Aayog will function as an integral part of the Rashtriya Gokul Mission.