Lachit Borphukan: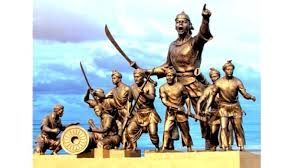 Opposition parties in poll-bound Assam slammed Prime Minister Narendra Modi for referring to 17th-century Ahom general Lachit Borphukan as a freedom fighter.
Lachit Borphukan (1622 – 1672) was a commander and Borphukan (Phu-Kon-Lung) in the Ahom kingdom, located in present-day Assam.
He is known for his leadership in the 1671 Battle of Saraighat that thwarted a drawn-out attempt by Mughal forces under the command of Ramsingh I to take over Ahom kingdom.
On 24 November each year, Lachit Divas (Lachit Day) is celebrated state-wide in Assam to commemorate the heroism of Lachit Borphukan and the victory of the Assamese army at the Battle of Saraighat.
The best passing out cadet of the National Defence Academy has conferred the Lachit Borphukan gold medal every year from 1999.