Wholesale Price Index (WPI) For The Month Of June, 2021.: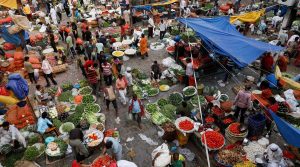 The Office of the Economic Adviser, Department for Promotion of Industry and Internal Trade has released the Wholesale Price Index (WPI) for the month of June, 2021.
Wholesale Price- Inflation:
Inflation in wholesale prices stayed high in June 2021 at 12.07% following the record high of 12.94% in May 2021.
The high rate of inflation in June 2021, is primarily due to low base effect.
Base effect: It is the effect that choosing a different reference point for a comparison between two data points can have on the result of the comparison.
Rise in prices of mineral oils viz petrol, diesel, naphtha, furnace oil etc.
Increased costs of manufactured products like basic metal, food products, chemical products etc as compared the corresponding month of the previous year.
Retail inflation based on the Consumer Price Index (CPI), was at 6.26% in June 2021.
Implication:

Wholesale Price- Inflation's potential to spill over into retail inflation (CPI inflation) levels will inject 'uneasiness' in the monetary policy.
Monetary policy is the macroeconomic policy laid down by the central bank. It involves management of money supply and interest rate and is the demand side economic policy used by the government of a country to achieve macroeconomic objectives like inflation, consumption, growth and liquidity.
Wholesale Price Index:
It measures the changes in the prices of goods sold and traded in bulk by wholesale businesses to other businesses.
Published by the Office of Economic Adviser, Ministry of Commerce and Industry.
It is the most widely used inflation indicator in India.
Major criticism for this index is that the general public does not buy products at wholesale price.
The base year of All-India WPI has been revised from 2004-05 to 2011-12 in 2017.
Consumer Price Index
It measures price changes from the perspective of a retail buyer. It is released by the National Statistical Office (NSO).
The CPI calculates the difference in the price of commodities and services such as food, medical care, education, electronics etc, which Indian consumers buy for use.