World Animal Day 2023: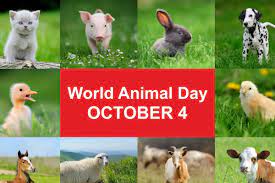 World Animal Day is observed on 4th October, serving as a global commemoration focused on the promotion of animal welfare and the protection of their rights.
It serves as a powerful reminder of our responsibility to protect and care for the diverse species that share our planet.
The theme for World Animal Day 2023 is "Big or small, we love them all," emphasizing the importance of compassion for animals of all sizes.
Its origins trace back to the visionary Heinrich Zimmermann, who initiated the event in 1925 and saw its recognition during a 1931 Congress of the International Animal Protection Congress in Florence, Italy.