World Youth Skill Day: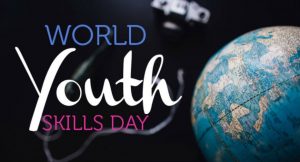 Every year, 15th July is observed as the World Youth Skills Day.
It was designated by the United Nations General Assembly (UNGA) in 2014.
Aim:

To equip young people around the world with essential skills for employment, work, and entrepreneurship.
To achieve the Incheon Declaration: Education 2030, "which devotes considerable attention to technical and vocational skills development, specifically regarding access to affordable quality technical and vocational education and training (TVET) institutions.''
This vision is fully captured by Sustainable Development Goal-4, which aims to "Ensure inclusive and equitable quality education and promote lifelong learning opportunities for all".
To eliminate gender disparity.

Theme for 2021:

'Reimagining Youth Skills Post-Pandemic'.
State of Youth Employment and Schools during Covid-19:
According to the estimates of UNESCO, schools were shut down for over 30 weeks in 50% of the countries between March 2020 and May 2021.
Respondents to a survey of the TVET, which was jointly collected by UNESCO, the ILO and the World Bank, revealed that distance learning was the most common way of imparting skills.
Youth employment fell 8.7% last year, compared with 3.7% for adults.