Today Current Affairs: 12th January 2021  for UPSC IAS exams, State PSC exams, SSC CGL, State SSC, RRB, Railways, Banking Exam & IBPS, etc
Contents:
Management Effectiveness Evaluation of Protected Areas
30th National Energy Conservation Awards (NECA)
Prevention of Cruelty to Animals Act, 1960:
China draws back troops from LAC:
Single Window Clearance for Coal
Coastal Defence Exercise Sea Vigil 21
United Nations Security Council (UNSC)
Unlawful Activities Prevention Act (UAPA)
1.Management Effectiveness Evaluation of Protected Areas: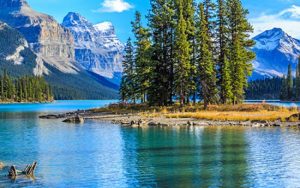 The Ministry for Environment, Forest and Climate Change (MoEF&CC) has released Management Effectiveness Evaluation (MEE) of 146 national parks and wildlife sanctuaries (NP&WLS) in the country.
It was also announced that from the year 2021 onwards, 10 best national parks, five coastal and marine parks, and the top five zoos in the country will be ranked and awarded every year.
Management Effectiveness Evaluation (MEE) of Protected Area:
MEE of Protected Areas has emerged as a key tool that is increasingly being used by governments and international bodies to understand the strengths and weaknesses of the protected area management systems.
The assessment process of India's National Park and Wildlife Sanctuaries adopted from IUCN WCPA (World Commission on Protected Areas) framework of MEE.
MEE is defined as the assessment of how well NP&WLS are being managed—primarily, whether they are protecting their values and achieving the goals and objectives agreed upon.
The ratings are assigned in four categories, as Poor – upto 40%; Fair – 41 to 59%; Good – 60 to 74%; Very Good – 75% and above.
A new framework for MEE of Marine Protected Areas has also been jointly prepared by the Wildlife Institute of India (WII) and MoEF&CC.
The MoEF&CC has also launched the Management Effectiveness Evaluation of Indian Zoos (MEE-ZOO) framework which proposes guidelines, criteria, and indicators for the evaluation of zoos of the country in a manner which is discrete, holistic and independent.
Protected Areas:
India has a network of 903 Protected Areas covering about 5% of its total geographic area.
India has systematically designated its Protected Areas in four legal categories — National Parks, Wildlife Sanctuaries, Conservation Reserves and Community Reserves under the Wildlife (Protection) Act, 1972.
Findings:
Overall Performance: The results of the present assessment are encouraging with an overall mean MEE score of 62.01% which is higher than the global mean of 56%.
Regional Performance: The eastern region of India presents the highest overall mean MEE Score of 66.12% and the Northern region represents the lowest mean MEE Score of 56%.
Best NP&WLS: Tirthan Wildlife Sanctuary and Great Himalayan National Park (GNHP) in Himachal Pradesh have performed the best among the surveyed protected areas (Total -146).
GHNP was awarded UNESCO World Heritage Site status in 2014, in recognition of its outstanding significance for biodiversity conservation.
Tirthan Wildlife Sanctuary (declared in 1976) is located at a height of 5000 feet and overlooking River Tirthan.
It is a part of the Seraj Forest Division. This sanctuary is connected to the Great Himalayan National Park.
Worst NP&WLS: The Turtle Wildlife Sanctuary in Uttar Pradesh was the worst performer in the survey.
A 7 km stretch of Ganga River between Rajghat (Malviya Bridge) to Ramnagar Fort, for the conservation, propagation, and development of wildlife and their environment was declared as the Kachhua Vanyajiv Abhyaranya (Turtle Wildlife Sanctuary) via notification in 1989.
2. 30th National Energy Conservation Awards (NECA) :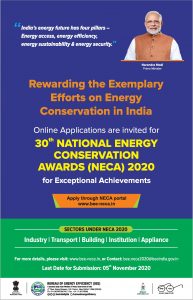 The Ministry of Power, in association with the Bureau of Energy Efficiency (BEE), organised the 30th National Energy Conservation Awards (NECA) function.
During the event, the Standards and Labelling Programme for Air Compressors and Ultra High Definition (UHD) TV on a voluntary basis was initiated and SATHEE Portal was also launched.
National Energy Conservation Awards Programme:
The Ministry of Power had launched a scheme in 1991, to give national recognition through awards to industries and establishments that have taken special efforts to reduce energy consumption while maintaining their production.
The awards were given away for the first time on 14th December, 1991, which was declared as the 'The National Energy Conservation Day'.
It recognizes the energy efficiency achievements in 56 sub-sectors across industry, establishments and institutions.
During the award ceremony, it was specifically mentioned that the impact of PAT Cycle II achieved emission reduction of 61 million ton of CO2.
The Perform, Achieve and Trade (PAT) Scheme:
It is a market-based mechanism to further accelerate as well as incentivize energy efficiency in the large energy-intensive industries.
It provides the option to trade any additional certified energy savings with other designated consumers to comply with the Specific Energy Consumption reduction targets.
It is being implemented by BEE, as a "flag bearer" which has not only demonstrated its promise in the country but also has found interest among many other countries.
Standards and Labelling Programme for Air Compressors and Ultra High Definition (UHD) TV:
It is to be carried out on a voluntary basis.
They are aimed to further enhance the level of energy conservation.
This conserved energy can then be used for a different purpose in the home or workplace.
Besides saving energy, this programme could also facilitate reducing energy bills.
SAATHEE Portal:
The Bureau of Energy Efficiency (BEE) has developed a Management Information System (MIS) portal namely State-wise Actions on Annual Targets and Headways on Energy Efficiency (SAATHEE).
It is a portal for the State Designated Agency (SDA) for state level activities.
Captures Status of Energy Efficiency: It will be useful in capturing the physical and financial status/ progress of Energy Efficiency activities being implemented by States/ UTs across the country. Thus, it will facilitate Real Time Monitoring.
Streamlines Decision Making and Compliance: It will also help in decision making, coordination, control, analysis, and implementation and enforcement of the compliance process for various energy consumers at the pan India level.
3.Prevention of Cruelty to Animals Act, 1960: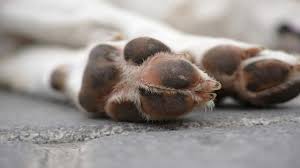 The Centre has informed the Supreme Court about the 2017 rules under the Prevention of Cruelty to Animals Act, 1960, and said that there was a difference between seizure and confiscation of animals, while responding to a petition.
The Centre's response came after last week the court had asked it to amend a rule in the Act pertaining to confiscation of animals before an accused is convicted under the legislation.
A plea was filed by Buffalo Traders Welfare Association, challenging the validity of the rules that allow authorities to seize vehicles used in cattle transportation and send the animals to shelters.
The petition pointed out that the transporters, farmers and cattle traders were being threatened since the rules were notified.
While seizure is temporary in nature and merely takes possession of property, confiscation amounts to transfer of ownership in the property and is supposed to be carried out only after final adjudication of the rights of the parties in a given case.
Prevention of Cruelty to Animals (Care and Maintenance of Case Property Animals) Rules, 2017:
Framed under the Prevention of Cruelty to Animals Act, 1960.
The Rules allow a Magistrate to forfeit the cattle of an owner facing trial under the Act.
The animals are then sent to infirmaries, animal shelters, etc.
The authorities can further give such animals for "adoption".
The traders have claimed that they were being forcibly deprived of their cattle which is sent to Gaushalas.
These frequent lootings are also threatening the rule of law and generally emboldening groups of persons to take the law into their own hands.
Moreover, these incidents are acting as triggers for communal polarization of society.
If not halted effectively and immediately will have disastrous consequences on the social fabric of the country
About the Prevention of Cruelty to Animals Act, 1960:
Seeks to "prevent the infliction of unnecessary pain or suffering on animals".
The Animal Welfare Board of India (AWBI) was established in 1962 under Section 4 of the Act.
This Act provides for punishment for causing unnecessary cruelty and suffering to animals. The Act defines animals and different forms of animals.
It provides the guidelines relating to experimentation on animals for scientific purposes.
4.China draws back troops from LAC: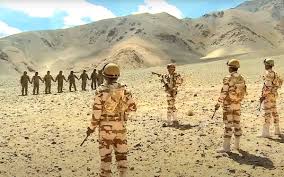 China has withdrawn around 10,000 troops from the depth areas along the disputed boundary in eastern Ladakh while frontline troops continue to remain in position.
Dispute :The Line of Actual Control (LAC)  the line that separates Indian and Chinese troops since 1962 – generally runs along with the land except for the width of Pangong Tso. Here, it runs through water.
Both sides have marked their areas announcing which side belongs to which country.
India controls about 45 km stretch of the Pangong Tso and China the rest.
The lake is divided into sections called fingers:

There are eight of them in contention here. India and China have different understanding of where the LAC passes through.
India has maintained that the LAC passes through Finger 8, which has been the site of the final military post of China.

India has been patrolling the area – mostly on foot because of the nature of the terrain – up to Finger 8. But Indian forces have not had active control beyond Finger 4.
China, on the other hand, says the LAC passes through Finger 2. It has been patrolling up to Finger 4- mostly in light vehicles, and at times up to Finger 2.
Pangong Tso is strategically crucial as it is very close to Chusul Valley, which was one of the battlefronts between India and China during the 1962 war.
China also does not want India to boost its infrastructure anywhere near the LAC.
China fears it threatens its occupation of Aksai Chin and Lhasa-Kashgar highway.
Any threat to this highway also puts Chinese rather imperialist plans in Pakistan-occupied territories in Ladakh and Jammu and Kashmir, and beyond in Pakistan.
About Pangong Tso:
Pangong Tso literally translates into a "conclave lake".
Situated at over 14,000 feet, the Lake is about 135 km long.
It is formed from Tethys geosyncline.
The Karakoram Mountain range ends at the north bank of Pangong Tso.
Its southern bank too has high broken mountains sloping towards Spangur Lake in the south.
5.Single Window Clearance for Coal: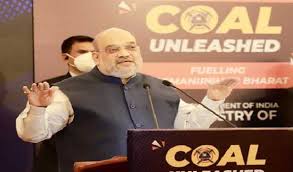 The Union government has announced a new online single window clearance portal for the coal sector.
The coal sector can be the biggest contributor to the target of India becoming a USD 5 trillion economy by 2025.
Despite having the world's fourth-largest coal reserves, India is importing coal.
The next tranche of commercial mining auction would be launched in January 2021.
It is aimed at allowing faster clearances, including environmental and forest clearances, from a single portal with progress monitoring, instead of having to go to multiple authorities.
Presently, about 19 major approvals, or clearances are required before starting the coal mine in the country.
Significance:
The portal will allow successful bidders to operationalise coal mines more quickly.
It is in the spirit of minimum government and maximum governance.
It will further ease of doing business in the country's coal sector.
It will help in bringing huge investment and creating employment.
6.Coastal Defence Exercise Sea Vigil 21: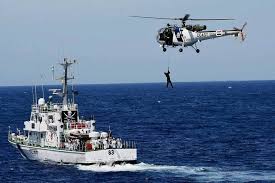 The second edition of the biennial pan-India coastal defence exercise 'Sea Vigil-21' has started.
The inaugural edition of the exercise was conducted in January 2019.
It is billed as India's largest coastal defence drill.
The 2021 exercise is being undertaken along the entire 7516 km coastline and Exclusive Economic Zone of India.
The United Nations Convention on the Law of the Sea (UNCLOS) defines an Exclusive Economic Zone (EEZ) as generally extending 200 nautical miles from shore, within which the coastal state has the right to explore and exploit, and the responsibility to conserve and manage, both living and non-living resources.
It involves all the 13 coastal States and Union Territories along with other maritime stakeholders, including the fishing and coastal communities.
13 Coastal States and UTs: Gujarat, Maharashtra, Goa, Karnataka, Kerala, Tamil Nadu, Andhra Pradesh, Odisha, West Bengal, Daman & Diu, Puducherry, Andaman & Nicobar Islands (Bay of Bengal) and Lakshadweep Islands (Arabian Sea).
Assets of the Indian Navy, Coast Guard, Customs and other maritime agencies are participating in the Exercise.
The Indian Air Force, National Security Guard, the Border Security Force, oil handling agencies and airports also participate in the exercise.
Significance:
The exercise is a build up towards the major Theatre level exercise TROPEX (Theatre-level Readiness Operational Exercise) which Indian Navy conducts every two years.
Sea Vigil and TROPEX together will cover the entire spectrum of maritime security challenges, including transition from peace to conflict.
7.United Nations Security Council (UNSC) :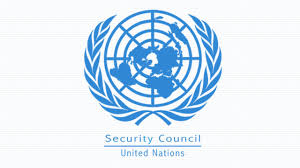 India has entered the United Nations Security Council (UNSC) as a non-permanent member and it will stay on the council for two years.
India has served in the UN Security Council seven times previously.
In 1950-51, India presided over the adoption of resolutions calling for cessation of hostilities during the Korean War and for assistance to Republic of Korea.
In 1972-73, India pushed strongly for admission of Bangladesh into UN. The resolution was not adopted because of a veto by a permanent member.
In 1977-78, India was a strong voice for Africa in the UNSC and spoke against apartheid.
Then External Affairs Minister Atal Bihari Vajpayee spoke in UNSC for Namibia's independence in 1978.
In 1984-85, India was a leading voice in UNSC for resolution of conflicts in the Middle East, especially Palestine and Lebanon.
In 2011-2012, India was a strong vice for developing world, peacekeeping, counter-terrorism and Africa.
India chaired the UNSC 1373 Committee concerning Counter-Terrorism, the 1566 Working Group concerning threat to international peace and security by terrorist acts, and Security Council 751/1907 Committee concerning Somalia and Eritrea.
8.Unlawful Activities Prevention Act (UAPA).: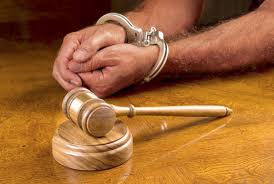 Peoples Democratic Party leader Waheed Para has been booked under Unlawful Activities Prevention Act (UAPA).
About the Unlawful Activities (Prevention) Act:
Passed in 1967, the law aims at effective prevention of unlawful activities associations in India.
The Act assigns absolute power to the central government, by way of which if the Centre deems an activity as unlawful then it may, by way of an Official Gazette, declare it so.
It has death penalty and life imprisonment as highest punishments.
Under UAPA, both Indian and foreign nationals can be charged.
It will be applicable to the offenders in the same manner, even if crime is committed on a foreign land, outside India.
Under the UAPA, the investigating agency can file a charge sheet in maximum 180 days after the arrests and the duration can be extended further after intimating the court.
As per amendments of 2019:
The Act empowers the Director General of National Investigation Agency (NIA) to grant approval of seizure or attachment of property when the case is investigated by the said agency.
The Act empowers the officers of the NIA, of the rank of Inspector or above, to investigate cases of terrorism in addition to those conducted by the DSP or ACP or above rank officer in the state.
It also included the provision of designating an individual as a terrorist.
Other important current affairs:
1.Democrats in the House of Republicans introduced an article of impeachment against U.S. President Donald Trump — the "incitement of insurrection" for his role in the attack on the Capitol recently.
Impeachment is a provision that allows Congress to remove the President of the United States.
Under the US Constitution:

The House of Representatives (Lower House) has the "the sole power of impeachment" while the Senate (Upper House) has "the sole power to try all impeachments".
The Chief Justice of the US Supreme Court has the duty of presiding over impeachment trials in the Senate.

Grounds for impeachment:

The President can be removed from office for "treason, bribery, or other high crimes and misdemeanors".
Essentially, it means an abuse of power by a high-level public official. This does not necessarily have to be a violation of an ordinary criminal statute.
Historically, in the US, it has encompassed corruption and other abuses, including trying to obstruct judicial proceedings..
2.Union Minister for MSME will be launching an innovative new paint developed by Khadi and Village Industries Commission on 12th January.
The eco-friendly, non-toxic paint, called "Khadi Prakritik Paint" is a first-of-its-kind product, with anti-fungal, anti-bacterial properties.
The paint has been certified by Bureau of Indian Standards. Khadi Prakritik Emulsion paint meets BIS 15489:2013 standards; whereas Khadi Prakritik Distemper paint meets BIS 428:2013 standards.
Khadi Prakritik Paint is available in two forms – distemper paint and plastic emulsion paint.
The project was conceptualized by Chairman KVIC in March 2020, and later developed by Kumarappa National Handmade Paper Institute, Jaipur (a KVIC unit).
3.Apple, Amazon and Google have suspended the social network called Parler, saying that the platform has not taken enough measures to make sure that content inciting violence remains in check.
Parler is an American alt-tech microblogging and social networking service.
Launched in August 2018, Parler markets itself as a free speech and unbiased alternative to mainstream social networks such as Twitter and Facebook.
Parler has a significant user base of Donald Trump supporters, conservatives, conspiracy theorists, and right-wing extremists.
The move has come following the events of January 6 when an armed mob of Trump supporters stormed Capitol Hill and clashed with the police as Congress convened to validate Joe Biden's presidential win.
The platform is favoured by right-leaning users and as per media reports was actively used by supporters of US President Donald Trump, including several of those who participated in the Capitol Hill siege.
4.According to the findings of a study by United Service Institution of India (USI), a Service think tank, more than half of Indian Army personnel seem to be under severe stress.
The Army has been losing more personnel every year due to suicides, fratricides and untoward incidents than in response to any enemy or terrorist activities.
Prolonged exposure of Indian Army personnel to Counter Insurgency and Counter Terrorism (CI/CT) environment has been one of the contributory factors for increased stress levels.
This loss is substantially greater than the operational casualties suffered by the Armed forces.
In addition, a number of soldiers and leaders have been affected by hypertension, heart diseases, psychosis, neurosis and other related ailments.
Officers experience comparatively much higher cumulative stress levels, compared to the Junior Commissioned Officers (JCO) and Other Ranks (OR) and the stress causative factors are also different.
5.After confirmed cases of bird flu reported from Delhi, the forest department has also stepped up vigilance at Sultanpur national park in Gurgaon district of Haryana.
It is situated in Gurgaon district of Haryana.
The distance of the park is around 50 Km from Delhi and 15km from Gurgaon.
Sultanpur National Park is a bird paradise for bird watchers. It is famous for its migratory as well as resident birds.
Migratory birds start arriving in the park in September. Birds use the park as a resting place till the following March-April.
During summer and monsoon months the park is inhabited by many local bird species.
In April 1971, the Sultanpur Jheel inside the park (an area of 1.21 sq. Km.) was accorded Sanctuary status under section 8 of the Punjab Wildlife Preservation Act of 1959.
The status of the park was upgraded to National Park under the Wildlife (Protection) Act, 1972 in July 1991.
6.₹1,364 crore given to wrong beneficiaries of PM-Kisan.
About Pradhan Mantri Kisan Samman Nidhi:

It is implemented as a central sector scheme by the Government of India.
This scheme was introduced to augment the source of income of many small and marginal farmers.
Under the Scheme an amount of Rs.6000/- per year is transferred directly into the bank accounts of the farmers, subject to certain exclusion criteria relating to higher income status.
The entire responsibility of identification of beneficiaries rests with the State / UT Governments.

The Scheme initially provided income support to all Small and Marginal Farmers' families across the country, holding cultivable land upto 2 hectares.
Its ambit was later expanded w.e.f. 01.06.2019 to cover all farmer families in the country irrespective of the size of their land holdings.
7.Russia will train two flight surgeons from India in space medicine for the Gaganyaan mission.
Flight surgeons are: Doctors from the Indian Air Force who have specialised in aerospace medicine.
Responsible for astronauts' health before, during and after a flight.
Indian Human Space Flight Programme:

ISRO aims to launch its maiden Human Space Mission, Gaganyaan before the 75th anniversary of India's independence in 2022.