2023 Global Survey On Persons With Disabilities And Disasters: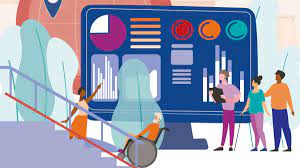 The UN Office for Disaster Risk Reduction (UNDRR) conducted the 2023 Global Survey on Persons with Disabilities and Disasters, following up on the 2013 survey.
The report was released ahead of International Day for DRR
Its theme "Fighting inequality for a resilient future" is aligned with the Sendai Framework.
It is aimed to assess the preparedness of persons with disabilities for disasters, accessibility of early warning and risk information, awareness of disaster risk reduction (DRR) plans, and their participation in DRR decision-making.
Disaster Risk Reduction (DRR) refers to the practices and strategies aimed at minimizing the risks and vulnerabilities associated with natural and human-made disasters.
Key results of the survey:
Limited progress in disability inclusion in DRR over the past decade, with no significant regional differences.
Low awareness of DRR plans among disabled
Lack of DRR plans addressing the specific needs of persons with disabilities
Limited participation in local-level DRR decisions by persons with disabilities
24% of respondents had been displaced due to crises or disasters, with armed conflict or violence being the leading cause of displacement.