Anji Khan Bridge: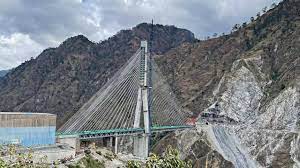 According to officials, the last deck portion of the Anji Khan bridge is expected to be completed soon.
Anji Khan Bridge is an under-construction railway bridge in the Reasi district of Jammu and Kashmir.
It will be the first cable-stayed railway bridge in India.
It forms a part of the Udhampur Srinagar Baramulla Rail Link Project (USBRL) connecting Katra and Reasi Station on the Jammu-Baramulla line.
It is an asymmetrical cable-stayed bridge balanced on the axis of a central pylon, and it has tunnels on both ends.
The cable-stayed portion of the Anji bridge is 472.25 metres, while the total length of the bridge is 725.5 metres, which is divided into four parts, including an embankment.
The central span of the bridge is 290 metres; its total deck width will be 15 metres.
It stands at the height of 331 metres above the Anji river bed.
Trains can run up to 100km/h, and the bridge can withstand wind speeds up to 213 km/hr.