Hornbill Festival 2022: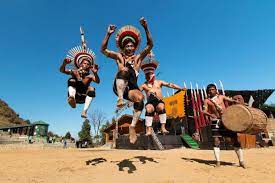 In Nagaland, the 10-day long Hornbill Festival 2022 will begin on December 1, at Naga heritage village Kisama.
The first festival was held in 2000.
It is held at Naga Heritage Village, Kisama which is about 12 km from Kohima in Nagaland.
It is organized by the State Tourism and Art & Culture Departments of the Government of Nagaland.
Objective:To encourage inter-tribal interaction and to promote cultural heritage of Nagaland.
Festival highlights include the traditional Naga Morungs exhibition and the sale of arts and crafts, food stalls, song and dance shows, indigenous games etc.
One of the major highlights of this festival is the Hornbill International Rock Festival where local and international rock bands perform.
The festival is named after the bird "Indian hornbill", which is displayed in the folklore of most of the state's tribes.
There are 9 hornbill species in India of which Great Hornbill is the most famous.
It is also called the 'Festival of Festivals'.
Great Hornbill:
Scientific name: Buceros bicornis.
Common name: Great Indian hornbill or great pied hornbill.
It is found in the Indian subcontinent and Southeast Asia.
The bulk of the population is found in India, where it is restricted to the Himalayan foothills, hill forests in northeast India and, disjunctly, the wet evergreen forests of west India.
Conservation:

IUCN Status: Near Threatened.
It is listed in Appendix I of CITES.