Greater Tipraland: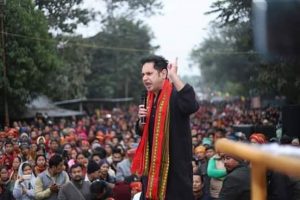 Tripura royal scion Pradyot Kishore Manikya has recently announced his new political demand of 'Greater Tipraland'.
He claims that this would serve the interest of tribals, non-tribals, Tripuri tribals staying outside Tripura, even those outside India in Bandarban, Chittagong, Khagrachari and other border adjacent areas in Bangladesh.
Greater Tipraland' is essentially an extension of the ruling tribal partner Indigenous Peoples Front of Tripura – IPFT's demand of Tipraland, which sought a separate state for tribals of Tripura.
The new demand seeks to include every tribal person living in an indigenous area or village outside the Tripura Tribal Areas Autonomous District Council (TTAADC) under the proposed model.
However, the idea doesn't restrict to simply the Tripura tribal council areas but seeks to include 'Tiprasa' of Tripuris spread across different states of India like Assam, Mizoram etc. as well, even those living in Bandarban, Chittagong, Khagrachari, and other bordering areas of neighboring Bangladesh.