India Web Browser Development Challenge: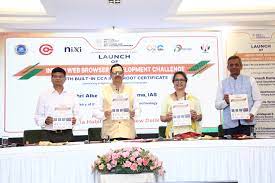 The Ministry of Electronics and Information Technology (MeitY) recently launched the Indian Web Browser Development Challenge (IWBDC).
The challenge is spearheaded by MeitY in collaboration with the Controller of Certifying Authorities (CCA) and the Centre for Development of Advanced Computing (C-DAC) Bangalore.
The Challenge seeks to inspire and empower technology enthusiasts, innovators, and developers from all corners of the country to create an indigenous web browser.
The desired browser will have its own trust store, use a root certificate from India's CCA, and offer cutting-edge functionalities and enhanced security & data privacy protection features.
As part of the challenge the government has announced a cash prize of Rs 3.4 crores for the developers.
The Indian Tech Start-ups, MSMEs, Companies, and LLPs registered in India under the Companies Act 2013 can apply.
The entity must have at least 51% shareholding with Indian citizens or persons of Indian origin.
The applicant's entity should not be a subsidiary company of any foreign corporation.
Participants can apply either as "individuals" or "organization". Members applying as "individuals" should have a minimum of 3 and a maximum of 7 members in their Group.
All other applicants (Startups, MSME, etc.) should apply under the "organization" category only.