Made In India K-9 Vajra : Artillery Guns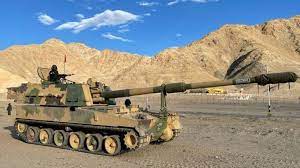 The Indian Army is planning to introduce the Made in India K-9 Vajra self-propelled artillery guns in the Eastern Ladakh sector where it has already equipped its troops with Spike missiles.
K- 9 Vajra is a 155 mm, 52-caliber tracked self-propelled artillery system.
It is built by Larsen & Toubro with technology transferred from South Korean defence major Hanwha Défense based on its K9 Thunder.
It has all-welded steel armour up to 19mm thick.
The main weapon is the 155mm / 52 calibre gun.
It has a burst rate of fire of three rounds per 15 seconds and a maximum rate of fire of six to eight rounds a minute for three minutes.
Range: 40 km
The K9 uses a digital fire control system, by which it can fire multiple rounds that can impact a given area at the same time.