Madhabi Puri Buch: First Woman To Head The Market Regulator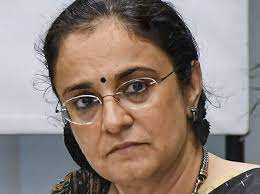 Madhabi Puri Buch, former whole-time member of the Securities and Exchange Board of India (SEBI), has been appointed as its new chairperson — the first woman to head the market regulator. She will hold the position for three years.
Earlier in January 2022, SEBI launched Saa₹thi – a mobile app on investor education.
SEBI is a Statutory Body (a Non-Constitutional body which is set up by a Parliament) established on 12th April, 1992 in accordance with the provisions of the Securities and Exchange Board of India Act, 1992.
The basic functions of SEBI is to protect the interests of investors in securities and to promote and regulate the securities market.
The headquarters of SEBI is situated in Mumbai. The regional offices of SEBI are located in Ahmedabad, Kolkata, Chennai and Delhi.
SEBI Board consists of a Chairman and several other whole time and part time members.
SEBI also appoints various committees, whenever required to look into the pressing issues of that time.
Further, a Securities Appellate Tribunal (SAT) has been constituted to protect the interest of entities that feel aggrieved by SEBI's decision.
SAT consists of a Presiding Officer and two other Members.
It has the same powers as vested in a civil court. Further, if any person feels aggrieved by SAT's decision or order can appeal to the Supreme Court.
SEBI is a quasi-legislative and quasi-judicial body which can draft regulations, conduct inquiries, pass rulings and impose penalties.
It functions to fulfill the requirements of three categories:

Issuers: By providing a marketplace in which the issuers can increase their finance.
Investors: By ensuring safety and supply of precise and accurate information.
Intermediaries: By enabling a competitive professional market for intermediaries.