Pong Dam : Release Of a Substantial Amount Of Water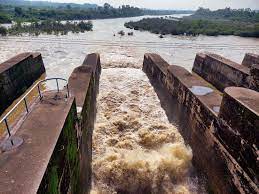 Several villages within the Beas River catchment area in Punjab have been submerged following the release of a substantial amount of water from the Pong Dam.
Pong Dam also known as the Beas Dam, is an earth-fill embankment dam on the Beas River in the state of Himachal Pradesh.
The purpose of the dam is water storage for irrigation and hydroelectric power generation.
The construction of the dam began in the year 1961 and was completed in 1974 and at that time was known as the tallest of its type in the country.
The raised water level thus invariably created an artificial lake called the Maharana Pratap Sagar, after the great ruler of Mewar. The lake became a renowned bird sanctuary for birds of numerous species including Bar-headed Goose and the Red-necked Grebe.
The Pong Dam is a 133 m tall and 1,951 m long earth-fill embankment dam with a gravel shell.
The dam is 13.72 m wide at its crest, which sits at an elevation of about 435.86 m above sea level.
The base of the Pong Dam is about 610 m wide and has a total volume of 35,500,000 metre cube.