Pradhan Mantri Virasat Ka Samvardhan Scheme: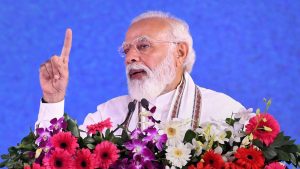 Pradhan Mantri Kaushal Ko Kaam Karyakram (PMKKK) has been named as Pradhan Mantri Virasat Ka Samvardhan (PM VIKAS) Scheme by the Ministry of Minority Affairs.
It is a Central-Sector Scheme, which focuses on the skilling, entrepreneurship and leadership training requirements of the minority and artisan communities across the country.
This is an integrated scheme that converges five erstwhile schemes of the Ministry of Minority Affairs viz,
This is a placement linked skill development scheme for minorities aiming to upgrade the skills of minority youth in various modern/traditional skills depending upon their qualification, present economic trends and market potential
USTTAD (Upgrading the Skills & Training in Traditional Arts/Crafts for Development): It aims to promote and preserve the rich heritage of the traditional arts & crafts of the minority communities.
Hamari Dharohar: It has been formulated to preserve rich heritage of minority communities of India.
Nai Roshni: It is a Leadership Development Programme for women belonging to minority communities in the age group of 18 to 65 years. It was started in 2012-13.
Nai Manzil: The scheme aims to benefit the youth (both men & women) belonging to six notified minority communities of 17-35 years of age, who do not have formal school leaving certificate. The scheme has been approved by the Cabinet for the period of 15th Finance Commission.