Prosopis Chilensis : Alien Invasive Plant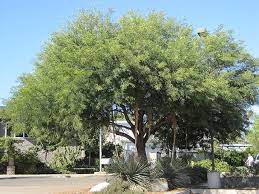 An avian distribution study has revealed that an alien invasive plant Prosopis chilensis is threatening to pulverise native vegetation across 21 islands in the Gulf of Mannar Biosphere Reserve (GoMBR)
The Prosopis chilensis is also known as Chilean mesquite.
It is a small to medium-sized legume tree that grows up to 12 m in height and 1 m in diameter.
It is a drought-resistant plant native to the arid regions of four South American countries namely Argentina, Bolivia, Chile, and Peru.
The Gulf of Mannar is one of the biologically richest coastal regions of India.
It is the first Marine Biosphere Reserve in South and South East Asia.
In India, the Gulf of Mannar region in Tamil Nadu is one of the four major coral reef areas and the others are the Gulf of Kutch in Gujarat, Lakhsadweep and Andaman and Nicobar islands.
It is designated as a Biosphere Reserve.
This Biosphere Reserve encompasses a chain of 21 islands (2 islands already submerged) and adjoining coral reefs off the coasts of the Ramanathapuram and the Tuticorin districts.