Webinar On Cage Aquaculture In Reservoir: Sleeping Giants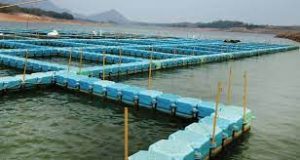 The Ministry of Fisheries, Animal Husbandry and Dairying organised a webinar on "Cage aquaculture in Reservoir: Sleeping Giants" as a part of "Azadi Ka Amrit Mahotsav".
Department of Fisheries, GOI earmarked the investment targets for promoting cage aquaculture under flagship scheme Pradhan Mantri Matsya Sampada Yojana (PMMSY).
Cage aquaculture involves the growing of fishes in existing water resources while being enclosed in a net cage which allows free flow of water.
It is an aquaculture production system made of a floating frame, net materials and mooring system (with rope, buoy, anchor etc.) with a round or square shaped floating net to hold and culture large numbers of fishes and can be installed in reservoir, river, lake or sea.
Cage farms are positioned in such a way to utilize natural currents, which provide the fish with oxygen and other appropriate natural conditions.
Factors Causing Cage Culture:
Factors such as increasing consumption of fish, declining stocks of wild fishes and poor farm economy have increased interest in fish production in cages.
Many small or limited resource farmers are looking for alternatives to traditional agricultural crops.
In view of the high production attainable in the cage culture system, it can play a significant role in increasing the overall fish production in India.