75/25 Initiative : Union Health Ministry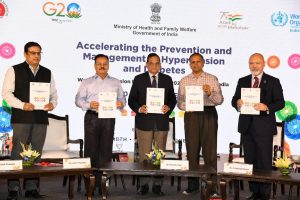 In a significant move to combat the rising burden of non-communicable diseases (NCDs), the Union Health Ministry of India on  unveiled the ambitious "75/25" initiative.
The program aims to ensure that 75 million individuals suffering from hypertension and diabetes receive standardised care by 2025, primarily through Primary Health Centers (PHCs).
Under the initiative, the government plans to train approximately 40,000 Primary Health Care Medical Officers on the Standard Treatment Workflow for NCDs. This training will be facilitated through the Shashakt Portal, enabling healthcare professionals to provide improved services at the community level.
The initiative was announced at the G20 co-branded event "Accelerating the Prevention and Management of Hypertension and Diabetes", organised by Union Health Ministry and WHO by Dr. V K Paul, Member (Health), NITI Aayog.