Global Ozone Day: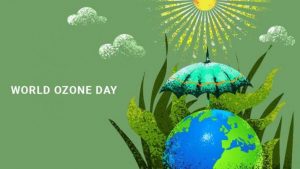 World Ozone Day is celebrated on 16th September each year to commemorate the signing of the Montreal Protocol.
This international environmental treaty for phasing out of production and consumption of Ozone Depleting Substances came into force on this day in 1987.
The Day is celebrated every year to spread awareness among people about the depletion of Ozone Layer and the measures taken/ to be taken to
preserve it.
The theme World Ozone Day 2021: "Montreal Protocol – Keeping us, our food and vaccines cool".
Montreal Protocol:
The Montreal Protocol on Substances that Deplete the Ozone Layer (the Montreal Protocol) is an international agreement made in 1987.
It was designed to stop the production and import of ozone depleting substances and reduce their concentration in the atmosphere to help protect the earth's ozone layer.
The Montreal Protocol sits under the Vienna Convention for the Protection of the Ozone Layer (the Vienna Convention).
Kigali Amendment:
Kigali Amendment was adopted by the Parties to the Montreal Protocol on October, 2016 at 28th Meeting of the Parties to the Montreal Protocol held at Kigali, Rwanda.
Under the Kigali Amendment; Parties to the Montreal Protocol will phase down production and consumption of Hydrofluorocarbons, commonly known as HFCs.
All amendments and adjustments of the Montreal Protocol, prior to the Kigali Amendment have Universal support.
India's achievements in implementation of Montreal Protocol:
India, as Party to the Montreal Protocol since June 1992, has been successfully implementing the Montreal Protocol.
India has phased out Chlorofluorocarbons, Carbon tetrachloride, Halons, Methyl Bromide and Methyl Chloroform for controlled uses in line with the Montreal Protocol.
Currently Hydrochlorofluorocarbons are being phased out as per the accelerated schedule of the Montreal Protocol.
Hydrochlorofluorocarbons Phase out Management Plan (HPMP) Stage-I has been successfully implemented from 2012 to 2016 and HPMP Stage-II is currently under implementation from 2017 and will be completed by 2023.
Government of India has recently decided to Ratify the Kigali Amendment to the Montreal Protocol.