EOS-06 Satellite : Released Images Of Earth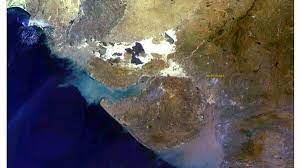 The Indian Space Research Organisation (ISRO) has recently released a Global False Colour Composite (FCC) mosaic of images captured by the Ocean Colour Monitor (OCM) payload on board the EOS-06 satellite.
The OCM senses the Earth in 13 distinct wavelengths to provide information about global vegetation cover on land and ocean biota for global oceans.
EOS-06 satellite is the third-generation satellite in the Oceansat series.
This is to provide continuity services for Oceansat-2 spacecraft with enhanced payload specifications as well as application areas.
Objectives of the Mission is :

to ensure the data continuity of Ocean colour and wind vector data to sustain the operational applications.
to improve the applications, some additional datasets such as Sea Surface Temperature and more number of bands in the Optical region for fluorescence and in the Infrared region for atmospheric corrections are accommodated.
to develop/improve related algorithms and data products to serve in well-established application areas and to enhance the mission utility.

The EOS-06 is envisaged to observe ocean color data, sea surface temperature and wind vector data to use in Oceanography, climatic and meteorological applications.