FRP For Sugarcane And Sugar Industry In India: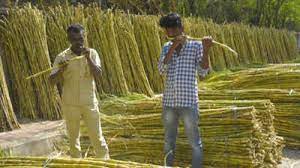 The Cabinet Committee on Economic Affairs, at its meeting chaired by the Prime Minister here has approved the Fair and Remunerative Price (FRP) of sugarcane for sugar season 2022-23 (October – September) at ₹305 per quintal.
The amount is for sugarcane with a basic sugar recovery rate of 10.25%.
The Centre has also announced a premium of ₹3.05 per quintal for each 0.1% increase in recovery of sugar over and above 10.25% and reduction in FRP by ₹3.05 per quintal for every 0.1% decrease in recovery.
FRP is the price declared by the government, which mills are legally bound to pay to farmers for the cane procured from them.
Delays in payment can attract an interest up to 15% per annum, and the sugar commissioner can recover unpaid FRP as dues in revenue recovery by attaching properties of the mills.
The payment of FRP across the country is governed by the Sugarcane Control order, 1966 issued under the Essential Commodities Act (ECA), 1955 which mandates payment within 14 days of the date of delivery of the cane.
It has been determined on the recommendation of the Commission for Agricultural Costs and Prices (CACP) and announced by the Cabinet Committee on Economic Affairs (CCEA).
CACP is an attached office of the Ministry of Agriculture and Farmers Welfare. It is an advisory body whose recommendations are not binding on the Government.
CCEA is chaired by the Prime Minister of India.
The FRP is based on the Rangarajan Committee report on reorganizing the sugarcane industry.