Indian Ocean Rim Association: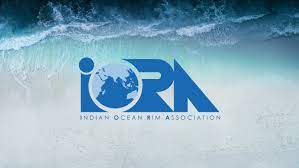 Sri Lanka set to take over chairmanship of Indian Ocean Rim Association during 23rd Council of Ministers' Meeting.
Indian Ocean Rim Association was established in 1997 as an intergovernmental organisation of States on the rim of the Indian Ocean
It has members from Africa, West Asia, South Asia, Southeast Asia , Europe and Oceania.
The Association's membership has expanded to 23 member states and 11 dialogue partners.
Asia: India, Bangladesh, Indonesia, Iran, Malaysia, Maldives, Oman, Singapore, Sri Lanka, Thailand, United Arab Emirates and Yemen.
Africa: Kenya, Madagascar, Mozambique, Somalia , South Africa, Tanzania, Comoros, Mauritius, Seychelles.
Oceania: Australia.
Europe: France
Its apex body is the Council of Foreign Ministers (COM) which meets annually.
IORA has identified six priority areas namely: Trade and Investment, Maritime Safety and Security, Fisheries Management, Disaster Risk Management and Blue Economy.