INS Tabar Conducts Military Exercise With Italian Navy: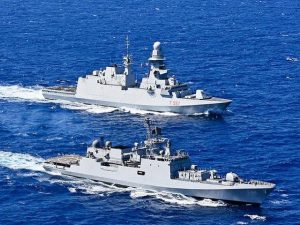 INS Tabar joined Italian Navy and entered Port of Naples on July 3 as part of ongoing deployment in Mediterranean.
Commanding officer Captain Mahesh Mangipudi called on senior officers of Prefect of Naples Authority, regional Italian navy headquarters and coast guard headquarters during the stay.
While returning, Tabar also undertook a Maritime Partnership Exercise with ITS Antonio Marceglia in Tyrrhenian Sea on July 4 & 5.
This exercise covered several naval operations such as air defence procedures, communication drills, replenishment at sea, and cross deck helo operations by day and night.
Exercise was mutually beneficial for enhancing interoperability and consolidating combined operations against maritime threats.
INS Tabar:
It is the third of Talwar-class frigate in Indian Navy. It was commissioned on April 19, 2004 in Kaliningrad, Russia.
It is a vessel in Talwar class and is armed with supersonic BrahMos anti-ship cruise missiles.
It is also equipped with Barak 1 missiles.