Janjatiya Gaurav Divas: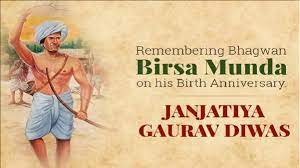 To commemorate the contribution of the tribal freedom fighters, the Ministry of Education is celebrating the 'Janjatiya Gaurav Divas'.
The government had declared 15th November as 'Janjatiya Gaurav Divas' dedicated to the memory of brave tribal freedom fighters.
15th November is the birth anniversary of Birsa Munda who is revered as Bhagwan by tribal communities across the country.
Birsa Munda:
Birsa Munda was an iconic freedom fighter, social reformer, and revered tribal leader of the country, who fought bravely against the exploitative system of the British colonial government, and became a legendary figure in his lifetime, often referred to as 'Bhagwan'.
He organized and led the tribal movement, giving a call for "Ulgulan" (Revolt, 1899-1900) to the tribals.
He encouraged tribals to understand their cultural roots and observe unity.